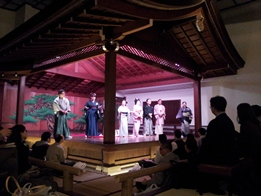 Yamamoto Noh Theater is located in the middle of Osaka city, 2minutes away from Tanimachi 4-chome station of Osaka metro.(About 20-min.-walk from Osaka castle)
The late owner, YAMAMOTO Hiroyuki(1890-1973), built this theater in1921. Its original stage was burnt down by the fires of war, and it was reconstructed in1950. As the theater has kept its tradition for more than 80years, it was authorized the Japanese tangible heritage in2006. Here in Osaka, we serve for the spread and development of Japanese Noh, the world heritage.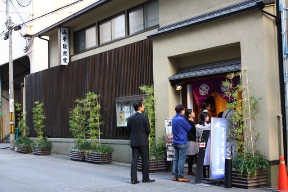 The stage of Yamamoto Noh Theater was constructed in a Japanese traditional way known as "Miyadaiku". You can definitely feel the invaluable culture if you come inside the theater with your shoes off. There is also a tea room in the 2nd floor. It used to be the best luxury for a person to enjoy a Noh performance drinking tea. One of the most interesting features of our theater is that we have 12 empty pots set under the stage. These are for the good sound effects during performances. Few Noh theater keep these traditional pots nowadays.
A variety of Noh performances are available at Yamamoto Noh theater. You can not only enjoy the performance but also learn how to play Noh with instructors.

Noh is a Japanese wonderful art, which has been performed for over 700years, and it is acknowledged as the oldest mask theater performance in the world. Toyotomi Hideyoshi, the Japanese Shogun, who raised Osaka castle, was also a fun of Noh and he tried to play Noh himself. In Osaka, Noh has been a part of people's life and a important culture. Please visit Yamamoto Noh Theater, and feel the Japanese culture more. You will love it.