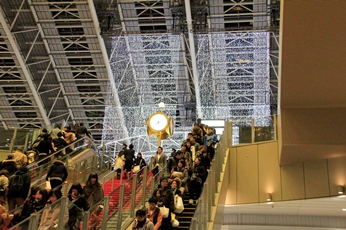 Prior to 2011, the Osaka station area was behind the times, lifeless and gray. In 2011, JR Osaka station underwent a major facelift and was reborn as Osaka Station City. Today, Osaka Station City is a trendy and hip area for shopping, dining and entertainment. As night falls on Osaka, Osaka Station City remains a treat for the senses.
Both North and South Gate Buildings unite at the 5th Floor by the "Toki No Hiroba" (Time Square). Gaze skyward and admire the architecture, the sheer breadth of the lattice structure, and contemporary design of the rooftop spanning the third busiest railway station in the world. The classic gold and silver clocks have become two of Osaka Station City's most popular meeting spots.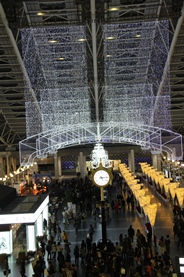 The North Gate Building houses
JR Osaka Mitsukoshi Isetan
on one side and LUCUA, a cinema complex and various other facilities and services on the other. JR Osaka Mitsukoshi Isetan combines two of Japan's oldest department stores, each with more than 300 years of history. JR Osaka Mitsukoshi Isetan's
12 floors
offers the latest designer trends and traditional Japanese crafts.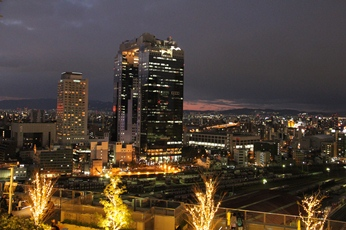 If window-shopping makes you thirsty, stop for a cup of tea and sample Paris' world-famous macaroons at
Salon de Thé Ladurée Osaka
on the 2nd floor, open until 20:30 pm. These world-famous macaroons come in dozens of pastel colors (the recipe is a closely guarded secret), so you don't have to fly to Paris to sample these treasures.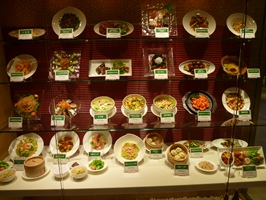 Across from JR Osaka Mitsukoshi Isetan,
LUCUA
contains about 200 stores over 11 floors: more shopping for the fashion-conscious. There are 16 restaurants on the 10th floor. Shops are open from 10:00 am to 21:00 pm, and the restaurant floor closes at 23:00 pm.
Wired Café
on the 7th floor, is a hip joint serving up cakes, coffees, teas, and all sorts of fruity concoctions. Open late with a young, hip and foxy clientele. The inside dining room is smoke-free, but smoking is allowed on the balcony.
The 10th floor,
Eat Paradise
offers a variety of dining options such as sushi, tempura or udon at local favorite, Mimiu. For dinner, order up a draft beer (Nama kudasai!) and pamper yourself to a real wagyu beef sukiyaki dinner at
Moritaya
, one of Kyoto's most famous beef restaurants. Sukiyaki dinners at Moritaya start at JPY 3,990 per person. After taking your order, an attendant cracks and whips a fresh, raw egg for you. In a shallow iron skillet, she gently grills paper-thin sheets of marbled, wagyu with a combination of rock sugar, soy-dashi, and mirin and transfers it to your bowl. Swish the beef, tofu and vegetables into the freshly beaten raw egg to cool it before gobbling it down.
If you've never had sukiyaki in Japan, you must try the real McCoy – the beef is so tender. Sukiyaki is served with plenty of green, leafy vegetables, fibrous gobo, calorie-free konnyaku, and tofu.
White rice, tsukemono pickles, and soup are included. Fresh fruits may be served at dessert. Call 06-6341-1029 to make reservations for two or more persons.
The South Gate Building consists of
Daimaru
department store, the Hotel Granvia Osaka, two floors of restaurants, and a medical clinic. Daimaru boasts a total of 17 floors of shopping and dining and is home to the
Pokemon Center
(great for the kids) on the 13th Floor. Casual dining options can be found on the 15th and 16th floor of South Gate Building at the Umaimono (Yummy Foods) Plaza.
A few other spots to visit are:
1. Taiyo-no-Hiroba (Patio Del Sol), on the 15th to 16th rooftop floors of the South Gate Building. Take the long escalators all the way up. This garden-like plaza is a great place to catch some rays, take a rest, and enjoy panoramic views of Osaka, day and night. And
2. Tenku-no-Noen (Heavenly Garden): If you're missing greenery and soil, take the escalators to the 14th floor of the North Gate Building to see and smell a farm hidden in the middle of the concrete jungle. Flowers, fruits, and vegetables soak up the sunshine on the rooftop, while electricity is generated by wind and solar power. Depending on the season, you might see apricots, grapes, or lavender. Rest your tired feet and overlook the bright city lights.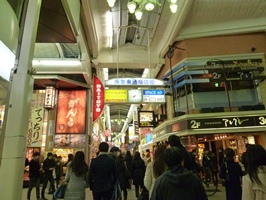 During festive seasons, Osaka Station City is decorated with beautiful displays, which add to the joyful atmosphere. The entire Osaka Station City is literally a city within a city. It's a place for people of all ages. You can either take the JR to Osaka Station, the subway lines to Umeda, Nishi Umeda or Higashi Umeda Stations, or Hanshin or Hankyu lines to Umeda Station. The
Hilton Osaka
,
The Ritz-Carlton Osaka
,
Hotel Granvia Osaka
and
InterContinental Osaka
are all within easy walking distance of Osaka Station City.
By
Jeannie Gan
and
Barry Louie