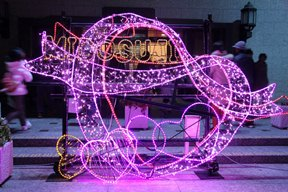 Every December, Osaka welcomes the festive season with a jubilee of lights smack dab in the heart of the city. Bring your special someone, colleagues or friends for a night out to Osaka Hikari Renaissance, within easy walking distance from JR Osaka Station, Namba or Shinsaibashi. "Hikari" means light, twinkle or sparkle, and there is plenty of "Hikari" to be seen.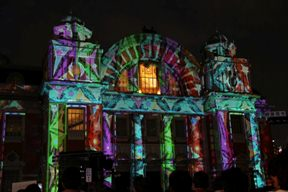 In 2012,
Osaka Hikari Renaissance
celebrated its 10th anniversary and welcomed nearly 3.5 million visitors to the streets of Osaka for this occasion. With the theme "Over the Shining Water", Nakanoshima Park was transformed into a sea of bright blue and white lights. Bottlenose dolphins could be seen jumping over rows of colorful flowers. And, the ocean-themed displays, cute characters and various objets d'art surely brought smiles to old and young alike. The 1920's retro-design Osaka Central Public Hall and Nakanoshima Public Library were bathed in a kaleidoscope of colors and lights more befitting the Disneyland Electric Parade!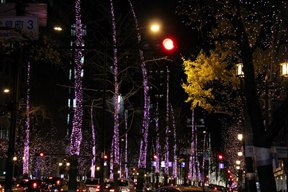 As you walk from Nakanoshima and the City Hall area and follow the throngs of people across the river flowing perpendicular to Midosuji Boulevard, you will literally be transported to a remarkable stream of lights, aptly named,
Midosuji Illumination
. "Midosuji", Osaka's main boulevard, runs north to south.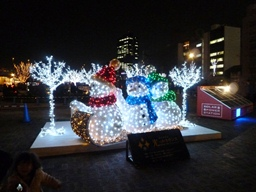 Stretching two (2) kilometers from Subway Yodoyabashi Station to Subway Shinsaibashi Station, the Midosuji route is the longest single illumination anywhere in Japan! White LEDs are added to hedges with shrubbery, giving the appearance of fallen snow. Normally stuffy office buildings are covered in hues of white, red, coral, yellow, and pink. Even the historical stone torii gate at Namba Shrine gets lit up in blue.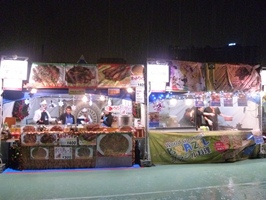 Throughout both walking courses, there are many spots to take commemorative photos with your friends, or romantic interest. Nearly 1,500,000 LED lights are used throughout Osaka Hikari Renaissance.
If all of this walking makes you hungry, do not despair. There are two main areas in Nakanoshima Park with booths selling both local and international food and drink at reasonable prices. You may choose from local Osaka favorites like takoyaki, okonomiyakai and yakisoba, or sample Shanghai-style dumplings, French onion soup, Brazilian churrasco, Turkish kebabs, German sausages, and other ethnic favorites. And if you are lucky, you may even spot street performers entertaining guests with juggling gigs and fire-swallowing performances. Free and fee-based handicraft workshops and classical concerts are also held throughout the duration of the event.
Osaka Hikari Renaissance and Midosuji Illumination are symbolic displays of Osaka, the "light and water" metropolis of Japan. From inquisitive children to young couples taking pictures at each of the various heart-shaped illuminations, this lavish display of light is an event you surely will not want to miss on a visit to Osaka in December.
In Nakanoshima and around the Osaka City Hall, the Hikari Renaissance starts from the evening of December 14th and finishes on Christmas Day from 17:00 – 22:00. While on the Midosuji, the avenue of lights is up from December 14th to January 20th from 17:00 – 23:00. The nearest station is Subway Yodoyabashi Station on the Midosuji (red) line, just one stop from Umeda or JR Osaka. Some advice: be prepared for the crowds. Arrive a few minutes before 5pm to see the lights turned on, or try your luck later in the evening when the crowds have thinned out a bit.
By
Jeannie Gan
and
Barry Louie