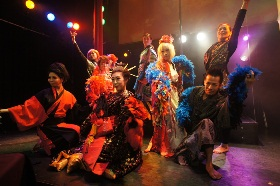 In a small alley in Sennichimae, Osaka lies the Panic Rabbit 84 Cafe. This is the venue for the fantastical performance Zipangu. The first time I walked in I had no idea what to expect. To a normal passer by, the exterior could lead them to believe it may just be an ordinary cafe. However, once inside, the hustle and bustle of the outside world dissolves into a very unique cafe. It has small floor space, but a surprisingly high ceil
ing measuring over 4m. The unique interior includes dramatic red walls painted in Japanese style with golden clouds and strong floral images. Friendly cafe staff welcomed me in from behind a golden yellow counter, that also matched the tall shimmering curtains separating the stage area.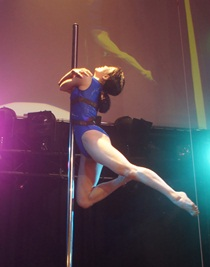 Zipangu is a series of shows running in four parts for the length of a year. The first part opening December 7th is composed of two acts with four performers in each act. The show showcases the talents of each of the performers. Their talents range from traditional Japanese dance to pole dancing, aerial silks, animation dance, and live Japanese style painting. Along with the variety in skills, the performers also take us on a journey through a range of feelings; f
rom sensual, comedic to even a bit disturbing.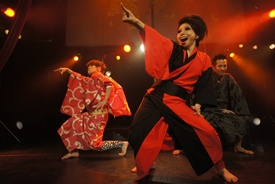 The size and arrangement of the cafe also plays an important role in the performance. The close proximity to the performers is incredibly engaging. The billowing dress of a dancer my brush against you or you may even hear the breathing of a performer as they pass by. The high ceiling allows for aerial silks to be used as well as a very long pole to be set up. With the pole placed in a very central part of the cafe, all the pole dancing feels as if it happens right above you.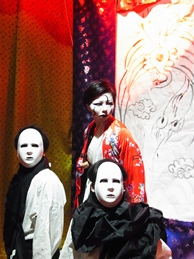 The first act titled "Bubble" is an homage to Japan's bubble era. It opened with a dark scene in which two of the performers stood frozen among rising smoke. I sat in anticipation, not quite sure what to expect, but waiting for something dramatic to occur. Much to my surprise the seemingly serious opening completely shifted as the statuesque performers engaged us with some comedic dance moves. This first act consisted of a range of scenes which included a very sen
sual traditional Japanese dance, a reference to "Lone Wolf and Cub" as well as various other colourful performances.
The second act titled "Bosatsumai" or "The path to Bodhisattva" takes you on a journey with two martial artists (played by Showen and Nos) training to reach enlightenment. Each of the scenes in "Bosatsumai" flow well together and form a complete story. It also features live Japanese style paintings. The martial artists encounter both good and evil beings during their training. These beings each play their part in influencing the two along the way. Rio represents
good and is dressed in a fabulous golden dress as she dances a Bosatsumai style dance. Evil is represented by Kazue who does an excellent job expressing the mischievous manner of her character.
Zipangu is a sexy comedy that includes everything from rich emotional dances to Japanese style "gag" humor. It can be appreciated by people of all ages, regardless of Japanese language competency. The scenes with conversations are fairly easy to follow along and even with the burlesque like performances, it stays kid friendly. Overall, I feel the show is highly entertaining and I left th
e cafe exposed to a slightly different view of Japan than I had known before. If you are a fan of the arts and interested in taking part in a not so typical Japanese experience, I would definitely recommend Zipangu!
By Mari